Colchester Police Chief, Jennifer Morrison received the 1st annual 'Hero of the Year' award from Heroes Home Advantage partners of Vermont Tuesday night at Airport Park in Colchester.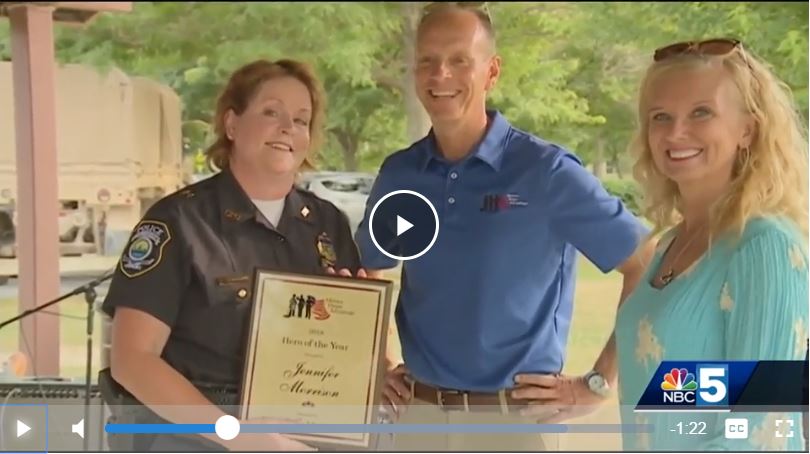 We at Heroes Home Advantage would like to Thank those who graciously donated to last night's event: 3 Brothers Pizza & Grill, Mr. Ding-A-Ling, Dunkin Donuts, Price Chopper, Shaws and RE/MAX of New England.

Speach from John Abry:
"We are here today to honor Chief Morrison's commitment to our communities and to celebrate her many accomplishments throughout her career.

In case anyone here doesn't know Jennifer Morrison currently serves as Chief of Police here in Colchester. Prior to becoming Chief in Colchester, she served for 23 years at the Burlington Police Department, retiring at the rank of Deputy Chief. Chief Morrison is the past President of the Vermont Association of Chiefs of Police and as most of you know was the first woman to be elected to this position.

A graduate of The George Washington University with a B.A. in Journalism & Criminal Justice, Chief Morrison received an M.A. in Leadership Studies from Norwich University in 2002. She is a graduate of the FBI National Academy where she was recognized as a sectional leader. She is also an instructor of Leadership in Police Organizations for the International Association of Chiefs of Police.

Chief Morrison's achievements with the Colchester PD are many including:

• Together with the men and women of CPD completely rebuilt their policy infrastructure
• Improved procedures in numerous areas such as evidence and property handling
• Liability risk reduction
• Requisition of dress uniforms
• Enhanced community engagement
• Larger footprint on social media
• Leadership role in multi-jurisdiction programs such as regional dispatch and the community outreach program

It is an honor and a privilege to honor Chief Morrison with the 2018 Hero of the Year Award."
Congratulations Chief Morrison!